Welcome to Isle of Mull Self Catering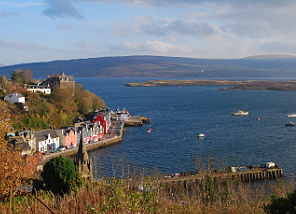 We are very happy to invite you to discover more about our extremely comfortable self catering accommodation in Upper Tobermory on the Isle of Mull.
The 3 properties are at the corner of Argyll Terrace and Albert St. in the old part of Tobermory and each offer wonderful self catering accommodation for holidaying on the Isle of Mull.
All properties have wifi access.
Now available Lower Thornliebank flat! Please contact me for details. You can see availability here.
Short Self Catering Breaks are available.
All properties are recently refurbished and each is well equipped, with TV, DVD, coffeemaker, washing machine, books and games.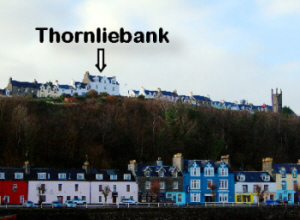 Thornliebank stands high on Argyll Terrace, with enthralling views across the bay.
The building was originally divided into 5 flats and a shop, and has now been converted to accommodate 3 flats, one on each level, our Thornliebank properties are on the 1st and 2nd floors.
Mid-Thornliebank is ideal for 4 and has three bedrooms. You can get full details here.
Upper-Thornliebank ideal for 3 or 4 and has two bedrooms. It also has a separate well equipped kitchen, which has a washing machine and dishwasher You can discover more here.
Our third property is Crieve.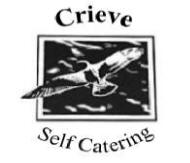 Crieve stands behind, and on a higher elevation than Thornliebank, and its attractive views stretch to one of Tobermory's two piers.
Crieve is ideal for couples. You can discover more here.
If they are available it is possible to hire two, or all of the properties together, which would be ideal for larger groups or families.